Does anyone else having nothing planned for the weekend? Zero, zilch, nada. A boring, unplanned weekend. Or worse, being hit with the dreaded 'I don't mind, what do you want to do?' from bae.
Don't get me wrong, sometimes after a really busy week, the thought of binge watching Netflix in our pjs sounds incredible, but with summer leaving us in just a few weeks (Ha, as if it ever started!), we should all have plans.
Don't worry though, P52 have got you covered. No matter what your interests are, the amount of people involved, or your location. Our weekend plans list will combat your boredom, and has something for everyone.
Last week celebrated Harry Potter's birthday, the release of Harry Potter and the Cursed Child, along with National Kissing Day.
Go out for breakfast- get up early and kick-start your day
A date shouldn't always be constricted to night; get up early and head out with your SO to have the most important meal of the day. Sometimes having no plans come from lack of motivation and laziness, start with a small plan of rising at an earlier hour than usual and finding a cute spot to share some pancakes over.
Start your day from there and who knows where it might lead to!
Celebrate your girlfriends
Aug 1st saw national girlfriends day, not quite like Valentine's Day, but instead a day to appreciate your girl squad. Why not grab those closest to you and spend a day together.
Some of us might be at a time in our lives where our best gal friends are scattered all over the country, and it can feel like an absolute mission to get them together. The key is to plan in advance- but take the full opportunity to celebrate the national holiday.
Have endless laughs of 'omg, do you remember when..?!!', endless heart to hearts...and of course, endless cocktails!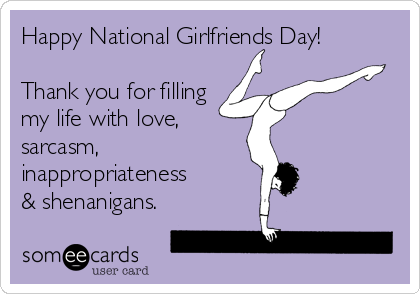 http://www.someecards.com/usercards/viewcard/MjAxMi0yYWVhZDlmZGM2MGE5YWI4
Head to a water park
Having fun and pretending to be a kid again should 100% combat your boredom and lack of plans.
For those who are keeping up with all of the Rio Olympic news, why not head out and do something active at the weekend? Break out of your comfort zone and try something fun.
Scarborough has just opened their new Alpamare waterpark (http://www.alpamare.co.uk/experience/) which holds Britain's longest and fastest water slide.
Get inspired
2016 marks 150 years of Beatrix Potter. Located in the Lake District,

National Trust are celebrating her birthday and the wonderful creation of Peter Rabbit with a year of special events and activities.The theme of the exhibition in the gallery is Romance and Realism.
If you can't quite make it to the Lake District (or rabbits aren't your thing!) Why not take a good book or a notepad to your nearest coffee shop to people watch, get lost and become inspired.
http://thelingholmestate.co.uk/wp-content/uploads/2015/06/Peter-Rabbit_Beatrix-Potter-150-years.jpg
Get colouring
Who doesn't love colouring in?! It is the most relaxing and therapeutic thing ever.
Grab yourself an adult colouring in book in honour of Glasgow's Merchant City Festival, which celebrates culture and art,

featuring theatre, music, visual arts, comedy, dance, film, literature and fashion
It is Harry Potter Week!
Staffordshire, Hanley's Waterstone store is hosting a

week long celebration from Sunday 31st July to Saturday 6th August for the release of Harry Potter and the Cursed Child and Harry's birthday with competitions and prizes to be won. The play itself is also being perfomed in London this weekend if you were lucky enough to get a ticket!
If you can't make it to the store why not have your own Harry Potter celebration?Pick up a copy of the new release, round up your other hogwarts-mad friends and follow Pretty52's guide to the ultimate harry potter night in! (

http://www.pretty52.com/awesome/life-the-ultimate-guide-to-a-magical-harry-potter-night-in-20160711)
http://images.mentalfloss.com/sites/default/files/styles/article_640x430/public/krdjhkejrh.png
Plan your own pub quiz
I don't know about you....but I love a good quiz! But there never seems to be any on at the weekend. Phone up your friends or family, order some pizza, have a few drinks and create your own if you're stuck for plans. It can be as easy or as difficult, a themed quiz or a general one, it's entirely up to you. You're guaranteed to have a good laugh!
Calling all make up lovers
While the ship has been there since April, Benefit launched their new eyebrow range just last month and I was so excited to try it! Here you can live the Benefit dream in a variety of different rooms which celebrate their iconic products. Why not head aboard the ship on the Thames to pick up some top tips from the make up artists inside to help you use your new products? Best be quick though, it's only opened for five months!
http://www.glamourmagazine.co.uk/news/beauty/2016/08/benefit-ship-pictures-good-ship
Britain's greatest national parks
For all nature lovers (or those who are having a stay-cation this year- where you explore and enjoy your own country instead of going abroad!), Britain has 15 beautiful national parks to roam around in. With lots to see like mountains, castles and waterfalls, the view will be incredible and you'll never be stuck for some active plans again.
Edinburgh Fringe Festival launches (Aug 5)
The biggest arts festival in the world launches on August 5th for its 69th year. It lasts until the 29th of the month, and hosts many acts that should not be missed! Things are happening all over Edinburgh, from street acts in Princes Street and the Royal Mile to performances in circus tents and pub theaters.
https://twitter.com/edfringe
Go Pokemon hunting
As much as I wish this game would phase out, it doesn't look like it's going anywhere. And if you can't beat them, join 'em (especially with the exciting news that they might be releasing a Harry Potter one, eeek! - http://www.pretty52.com/news/tech-apparently-harry-potter-go-is-in-production-and-we-are-so-excited-20160731).
Supposedly there are 'top hunting spots' in all major cities, some which include: The Tower of London, Edinburgh Zoo, York Boat, Manchester Cathedral and The Beatles Story in Liverpool.
You can thank us later ;)
Head to one of Britain's best hidden beaches
Summer should be all about spending time at the beach, and if you have no other plans then what better way to spend your time. Thankfully we're not talking about one that will have hundreds of people on it, or a tourist trap that tries to sell you an ice cream at £8403398 pounds. No, we're talking about travelling to some of Britain's best kept secrets.
Sandy Mouth in Cornwall has a beach below cliffs, and Kynance Cove boasts crystal clear blue waters. Further north in Wales, Barafundle Bay Beach is reached across the clifftops, and up in Scotland the Silver Sands of Morar is a must visit!
*sunshine isn't guaranteed though, so maybe leave this one for a sunny day....'cos let's be honest who actually likes walking in the rain?!*
http://www.telegraph.co.uk/travel/destinations/europe/united-kingdom/galleries/Britains-best-hidden-beaches-in-pictures-from-Cornwall-to-the-Hebrides/